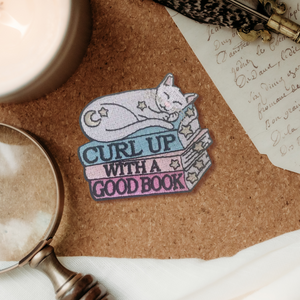 Curl Up With A Good Book Patch
The snuggle is real 🐈‍⬛📚🌙✨This patch is perfect for our moonlit readers who want to curl up with a good book before bed. Patches apply perfectly on a tote bag or denim jacket!

PRODUCT DETAILS:
💫 2.5" Iron-On Patch
💫 Designed by @wildflower.co
How to apply your patch:
1. Set your iron to the hottest setting for your garment, and turn off the steam.
2. Lay the patch on the garment with the embroidered side of the patch facing up.
3. Cover the patch with fabric*, and apply the iron for 30-40 seconds.
*a tea towel or pillowcase will do!
4. Turn the garment inside out and repeat step 3 on the reverse side.

Care instructions:
When washing, please turn garment inside out and wash on a gentle setting.
Please note the iron-on patches are unsuitable for ironing on to leather, vinyl, rayon, nylon, or waterproof materials, but can be sewn on instead. 
FINAL SALE. This is the last of our stock, and if damage occurs in transit we will not have stock to replace this item.
---
---