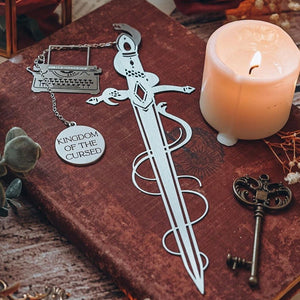 Kingdom of the Cursed Inspired: Wrath's Dagger Metal Bookmark
The next dagger in our Exclusive Favorite Fictional Daggers & Swords Metal Bookmark Collection designed by @cassberrie⚔️ Featuring Wrath's dagger from the Kingdom of the Wicked Series. We love that these bookmarks are easily transformed into a prop for your bookstagram photos!
Featured in our March YA: Bookish Baddies Box.
| Photo by @dailybookrecs |
---
---